The licenses for realization of works and production of the company "SV-Barrisol".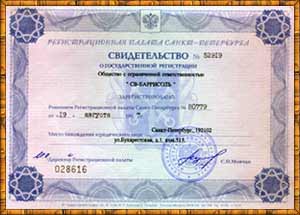 The company "SV-Barrisol" and the branches have all necessary licenses for rea-
lization of works on installing of stretch ceilings and walls of system "BARRISOL".
The branch is registered in Saint-Petersburg in registration chamber of St.-Petersburg with certificate No.52919, given on 19/8/97.

The preliminary work on preparation for installation and installation itself of a ceiling is made by the high quality experts certified by representation of the firm "NORMALU S.A" France.
The material installed and all kinds of films have passed ecological tests and have appropriate hygienic certificate and certificate of conformity.

All installed materials according to the carried out examinations also are recognized as not supporting burning.
The licenses and certificates:
---
About Company | Our services | Awards of Barrisol | Licence | Our Net | Contact Us | Pricelist | Technology | FAQ | GuestBook | Images | Colours | More Info | Installation | News of company | WebCenter's news | RealVideo


© 1998 SV-Barrisol Company. Russia. Design by TspSoft

The trademarks Barrisol and Barrisol Star are the property of BARRISOL-NORMALU S.A.
All rights reserved.